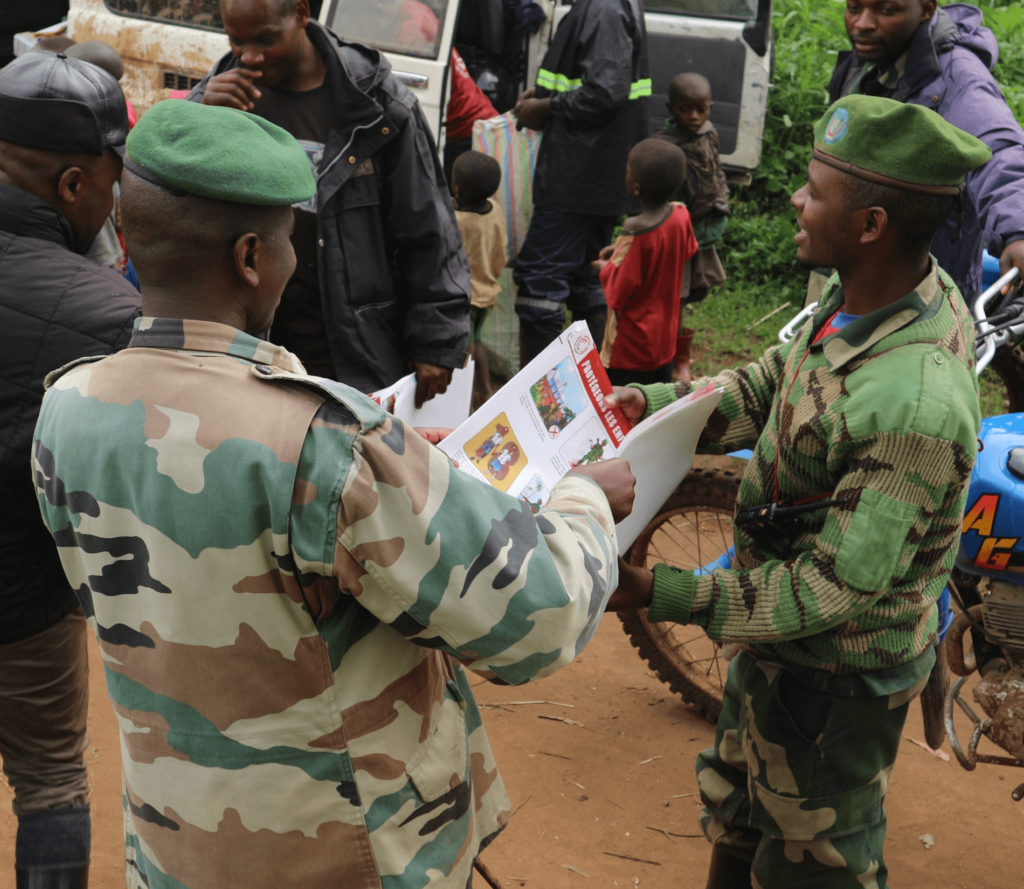 The release of civilians detained by armed groups illustrates the value of enhancing humanitarian norms amidst ongoing escalating violence in the East of the Democratic Republic of Congo
14 February 2023
A recent release of civilians detained in the eastern Democratic Republic of Congo shows the importance of engaging armed groups to build their knowledge and compliance with international humanitarian law to ensure that civilians caught up in armed conflicts remain protected.
It was a harrowing incident for the four teachers, humanitarian aid worker, nurse and five other civilians who were taken captive in late January and released a week later.
But for all of the organizations caught up in it, the incident served as a stern reminder of the need to engage armed groups on protection of civilians and humanitarian actors during hostilities.
Escalating violence has left hundreds dead and hundreds of thousands displaced in eastern DRC, where organizations like Geneva Call are deeply concerned about their protection.
Active in the DRC since 2014, as a neutral, impartial, and independent international humanitarian organization, Geneva Call works to improve civilian protection by strengthening the respect that armed groups and de facto authorities (AGDA) have for humanitarian norms and principles.
The 11 civilians who were detained by one of the armed groups in the North Kivu province of eastern DRC were freed after Geneva Call and other international humanitarian organizations intervened.
Their release earlier this month relied in part on Geneva Call's ability to establish long-term trust with armed groups, as well as with local authorities and local communities in some of the most difficult places for humanitarian rules to prevail.
Several million people are internally displaced within the eastern DRC, according to the U.N. refugee agency, and the nation hosts half a million refugees and 5.6 million IDPs in all, the most in Africa.
Geneva Call has engaged in regular humanitarian dialogue with more than 10 armed groups in the region since 2014, reflecting a mission of converting hard-won trust into stronger civilian protection.
That reservoir of trust "really came to be appreciated by a lot of organizations – those who work in humanitarian access, or in protection in a global way, or the other NGOs that indirectly were involved in the advocacy" –, said Declerck Baibika Musoka, Geneva Call's Program Coordinator in North Kivu province.
In addition, it opened the door for the organizations and one of the armed group's commanders to hold a half-dozen or more calls.
Dealing with detentions reinforced the way that effective advocacy for rights and protection is dependent on real, long-term engagement – honest on-the-ground communication and training, plus the sharing of expertise and knowledge – that is respectful, discreet, and non-showy.
Which is precisely how Geneva Call inspires armed groups and de facto authorities around the world to adhere to international humanitarian norms and, ultimately, to improve civilian protections.
"We ensure that the groups understand these rules," said Arz Alam, Geneva Call's Head of Mission in the DRC, "and that they know that it is in their interest to apply them in concrete cases, such as in this case of captives."