Our commitment
Geneva Call strives to improve the protection of civilians in areas of conflict or violence.
We do that by engaging armed groups and de facto authorities (AGDAs) because the impact of their conduct is significant on the lives of thousands of civilians either caught under fire or who live under AGDAs' control.
Our engagement with AGDAs is either direct or indirect through partners and trusted civil society organizations. In all cases, it aims at raising awareness and compliance by all parties with international humanitarian law (IHL) as many of the violations are perpetrated by AGDAs.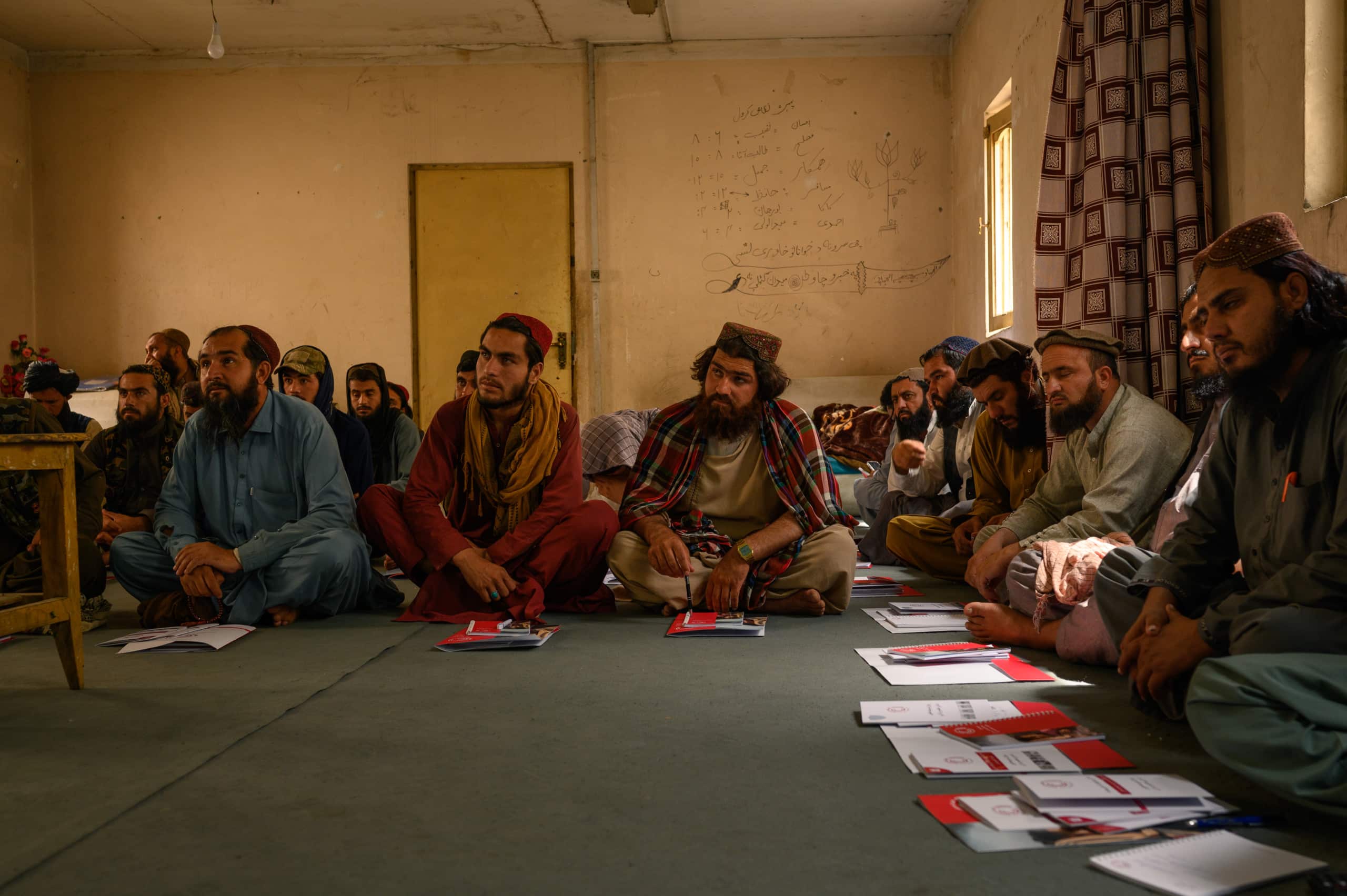 Reinforcing Humanitarian Norms
for a lasting positive change
We prioritise our engagements based on civilian protection needs and the sensitivity of each conflict. We select those we engage with based on which ones we believe have the greatest impact on the lives of civilians.

Widespread violations often occur during conflicts, including deliberate attacks on civilians and their infrastructures, such as hospitals and schools. Children, vulnerable populations, and humanitarian workers are frequent targets. Our purpose is to deepen knowledge and acceptance of humanitarian norms in armed conflict and other situations of violence – the so-called rules of war. This reinforces the pillars of international humanitarian law (IHL) and international human rights law (IHRL).

As we engage, we use targeted awareness-raising and training tools. One of our main tools is the Deed of Commitment.
Deeds of Commitments are unique public pledges made by AGDAs to adhere to and comply with key international humanitarian principles.
They come with a thorough monitoring and implementation plan allowing Geneva Call to deepen its engagement with the signatories, eventually leading to a long-term behavioural change on the ground.

To date, 70 AGDAs signed Deeds of Commitment in four thematic areas – landmines and explosive weapons; child protection and education; sexual violence and gender discrimination; and health care.

Since 2000, Geneva Call has worked in more than two dozen countries.
In our humanitarian dialogue, we focus on these thematic areas:
Children are particularly vulnerable to the effects of armed conflict. They may be killed, maimed, abducted, raped, recruited and used in hostilities. Their education may be interrupted or prevented from commencing.
Of the parties that are listed as perpetrators of grave violations against children in the last report of the UN Secretary-General on children and armed conflict, most are AGDAs. Many children involved in armed conflict are to be found among the ranks of AGDA forces. Schools have also been targeted or used for military purposes by AGDAs.
Geneva Call has been working on the protection of children and education in armed conflict since 2010. To date, 31 AGDAs have signed the Deed of Commitment protecting children in armed conflict and have taken implementing measures such as the demobilization of child soldiers. Other AGDAs have undertaken similar pledges.
In recent years, cultural heritage has increasingly become the direct target of systematic and deliberate attacks, notably on the part of AGDAs. Examples include the destruction of 14 ancient mausoleums in the World Heritage town of Timbuktu in Mali.
In addition, changes in the dynamics of warfare have increasingly transformed urban areas into battlegrounds. As a result, historical monuments, religious buildings and other cultural sites have suffered important collateral damage. Cultural heritage has been further affected by the illegal excavation of archaeological sites, the widespread looting of sites and museums, and the illicit trafficking of cultural objects.
As part of its 2020-2023 strategy, Geneva Call is engaging AGDAs on the protection of cultural heritage in armed conflict.
Armed conflict drives food insecurity and famine in multiple ways. Fighting disrupts food supplies, food production, and food systems by damaging critical infrastructure and contaminating or destroying agricultural land. Unsurprisingly, millions of people threatened by food insecurity and famine live in armed conflict zones, including areas under the influence of armed groups and de facto authorities (AGDAs).
Better respect for international humanitarian law can mitigate these causes of conflict-related food insecurity.
In 2021, Geneva Call launched a new Deed of Commitment on the Prevention of Starvation and Addressing Conflict-Related Food Insecurity.
According to UNHCR, by the end of 2020 an unprecedented 82.4 million people were forcibly displaced in the world. Among them, a quarter are refugees and asylum-seekers and 48 million internally displaced persons (IDP). Direct attacks and ill-treatment, loss of property, sexual violence and restricted access to health care and other essential services are among the common threats to displaced persons.
AGDAs are present in most countries where there are high levels of internal displacement. Geneva Call has started to engage AGDAs on displacement issues in 2018.
Attacks on health care facilities, personnel and medical transports have increased significantly in conflict zones in recent years. Besides their immediate impact, such attacks also paralyse the delivery of emergency services and disrupt access to health care for the wider civilian population and wounded fighters. They may also lead to health care staff leaving conflict areas, thus further exacerbating the trend.
AGDAs are believed to be responsible for about a third of all such incidents of violence worldwide. Geneva Call has started to engage AGDAs on the protection of health care in armed conflict in 2018, and launched a Deed of Commitment on the Protection of Health Care in Armed Conflict. To this date, 4 AGDAs have signed the Deed of Commitment.
Anti-personnel (AP) mines maim and kill civilians and combatants indiscriminately, even after hostilities have ended. Hundreds of thousands of people, mainly civilians, have become victims of AP mines and other explosive remnants of war (ERW). In addition to the human cost, AP mines and ERW hinders access to services, the delivery of humanitarian relief, the return of displaced people and economic development.
According to the Landmine Monitor, AGDAs are the main users of AP mines and improvised explosive devices in today's armed conflicts.
Geneva Call has been working on humanitarian mine action since its inception in 2000. To date, 54 AGDAs have signed the Deed of Commitment banning AP mines and have taken measures to implement them such as stockpile destruction. Other AGDAs have undertaken similar pledges while in some countries, the commitment made by AGDAs was instrumental in the accession of the concerned State to the AP Mine Ban Convention. Geneva Call has also recently begun to work to strengthen the protection of civilians from the use of explosive weapons in populated areas (EWIPA).
Sexual violence and rape in particular are pervasive in many armed conflicts. Conflict situations create a climate where law and order are disrupted and a sense of impunity may prevail among armed actors. Perpetrators include members of both government forces and AGDAs and both men and women are victims of sexual violence in times of armed conflict. Armed conflict also tends to exacerbate discriminatory practices between men and women, such as access to education, health or other services. Geneva Call has been working on gender and sexual violence since 2004. The Deed of Commitment prohibiting sexual violence and against gender discrimination was launched in 2012 and to date, 25 AGDAs have signed it and have taken measures to implement its provisions.