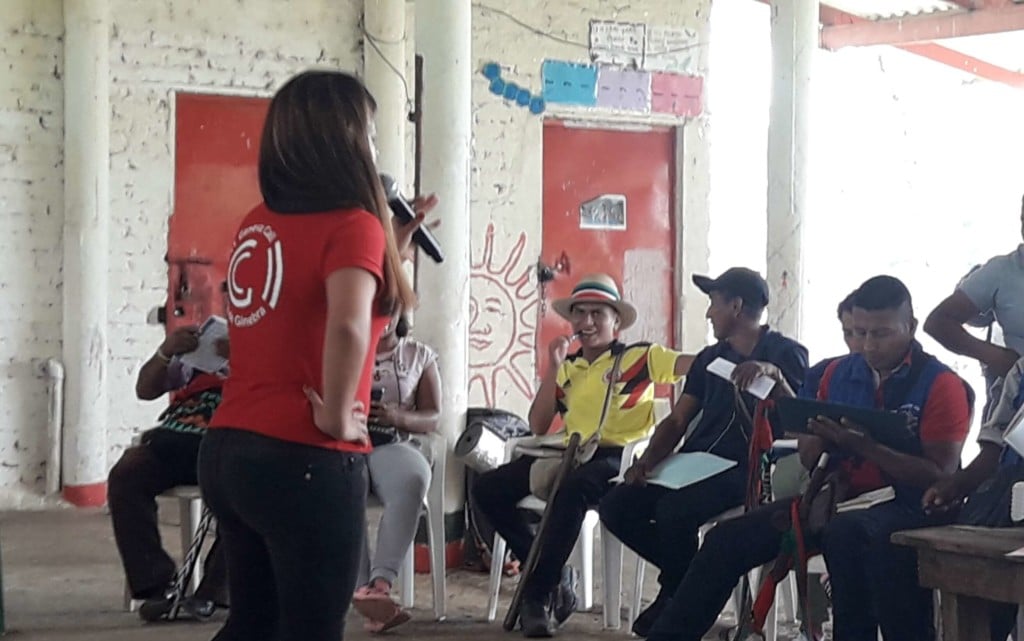 Temporary suspension of Geneva Call's activities in Colombia
6 February 2020
Unfortunately armed violence is far from over in Colombia. Despite the efforts to move towards the consolidation and implementation of the agreements reached between the Colombian State and the Revolutionary Armed Forces of Colombia—People's Army (FARC – EP), the humanitarian situation in Colombia is still in crisis. The reconfiguration of the armed powers in the territories and their struggle for control of legal and illegal economies has had serious consequences on the civilian population: murders of social and community leaders, continuous forced displacements, confinement of communities, increase in civilian casualties by antipersonnel landmines, to name a few.
In this changing post-agreement context, Geneva Call is convinced of the added value of its presence in Colombia and the importance to pursue its mission of protecting civilians from armed violence. Geneva Call has defined a new and ambitious country strategy for its activities in Colombia for 2020 and 2021 to this end.
However, Geneva Call is faced with significant challenges in the implementation of its operations in Colombia, mainly due to lack of needed funds to develop its unique work towards armed actors and for the benefit of civilian populations. Geneva Call is actively looking for funds to resume its operations in Colombia as soon as possible, but in the meantime, it has been forced to suspend its activities until further notice.
Since its first activities in Colombia in 2003, some of Geneva Call's main achievements in the country have been to keep a permanent dialogue on humanitarian issues with the negotiation teams of the FARC-EP and the ELN in Havana (Cuba) and Quito (Ecuador); to develop educative processes in International Humanitarian Law for communities living in the most affected regions of Colombia and to accompany them in their own humanitarian initiatives; to develop trainings on specific humanitarian issues such as child recruitment, gender-based violence and the use of landmines, with men and women members of the ELN detained in Colombian prisons; to undertake actions to diffuse the knowledge of the humanitarian norms to the broader civilian population and authorities in Colombia; and to stress the importance of having humanitarian engagement with armed non-state actors.
---
Suspensión temporal de las actividades del Llamamiento de Ginebra en Colombia
La violencia armada está lejos de culminar en Colombia. A pesar de los esfuerzos hacia la consolidación e implementación de los acuerdos alcanzados entre el Estado colombiano y las FARC – EP, la situación humanitaria en Colombia sigue en crisis. La reconfiguración de las potencias armadas en los territorios y sus luchas por el control de las economías legales e ilegales ha tenido graves consecuencias para la población civil: asesinatos de líderes sociales y comunitarios, desplazamientos forzados infundados, confinamiento de comunidades, aumento de víctimas civiles por minas antipersonal, entre otras.
Bajo este contexto cambiante de posacuerdo, el Llamamiento de Ginebra está convencido del valor agregado de su presencia en Colombia y la importancia de continuar su misión de proteger a los civiles de los efectos negativos de la violencia armada. El Llamamiento de Ginebra ha definido una nueva y ambiciosa estrategia para sus actividades en Colombia para 2020 y 2021. Sin embargo, el Llamamiento de Ginebra enfrenta importantes desafíos en la implementación de sus operaciones en Colombia, principalmente debido a la falta de fondos para desarrollar su trabajo único hacia los actores armados y en beneficio de las poblaciones civiles. Mientras el Llamamiento de Ginebra busca activamente fondos para reanudar sus operaciones en Colombia lo antes posible, se ha visto obligado a suspender sus actividades hasta nuevo aviso.
Desde sus primeras actividades en Colombia en 2003, algunos de los principales logros del Llamamiento de Ginebra en el país han sido mantener un diálogo permanente sobre cuestiones humanitarias con los equipos de negociación de las FARC – EP y del ELN en La Habana (Cuba) y Quito (Ecuador); desarrollar actividades educativas y de capacitación sobre el  derecho internacional humanitario para las comunidades que viven en las regiones más afectadas de Colombia y acompañarlas en sus propias iniciativas humanitarias; desarrollar capacitaciones sobre temas humanitarios específicos, como el reclutamiento de niños, la violencia de género y el uso de minas terrestres, con integrantes  del ELN detenidos en cárceles colombianas; tomar acciones para la diseminación  de las normas humanitarias a la población civil y las autoridades estatales; y destacar la importancia de tener contacto humanitario con actores armados no estatales.