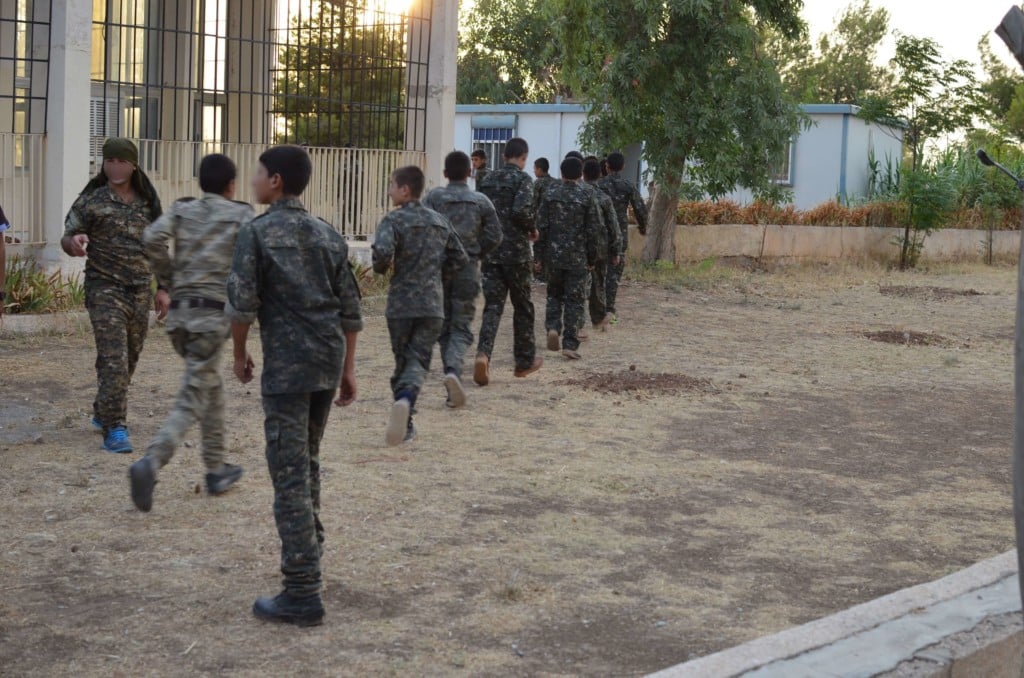 A report from inside Syria: a visit to monitor the prohibition on the use of child soldiers in Kurdish areas
10 February 2016
November 2015. For the sixth time since the Syrian Kurdish armed forces signed the Deed of Commitment protecting children in armed conflict, in 2014, a team from Geneva Call went to Syria to monitor the situation related to the use of child soldiers by those forces.
Travel to Syria
Our journey to Syria begins in Erbil, the main city in Iraqi Kurdistan. After a few hours of driving, we reach Dohuk, our last stop before Syria and one of the most populated cities in Iraqi Kurdistan.
Despite its quiet appearance, Dohuk is facing a dramatic humanitarian crisis: the city and its surrounding region are hosts to more than 450,000 internally displaced people, including many of the Yezidis who have fled ISIS over the past two years and tens of thousands of Syrian refugees.
We continue to Faysh Khabur, one of the main crossing points into Syria, located on the banks of the Tigris river. We are now entering the territory controlled by the Kurdish "Democratic Self-Administration in Rojava" and its armed forces, the People's Protection Units (YPG) and the Women's Protection Units (YPJ).
After a three-hour journey by car, driving past oil pits and villages of clay houses, we reach our final destination near Qamishli, the main city in the area. In this part of Syria, the Kurds are fighting ISIS every day along a 450-km front line.
Recent allegations of child recruitment
Since their signature of the Deed of Commitment, we have maintained a constant dialogue with the YPG/YPJ in order to monitor implementation and address allegations and cases of violations.
Recent monitoring visits by Geneva Call, as well as reports by UN agencies, NGOs (such as this Human Rights Watch report) and journalists, have brought to light cases of child soldiers taking part in hostilities. Indeed, the YPJ/YPG recognized — via several public declarations — that they were facing difficulties in implementing the Deed.
Their statements also highlighted all the efforts they are making to prevent the use of child soldiers. For example, in July 2015, they issued a circular(English translation here) to all their units. This reminded commanders of the prohibition against using children under 18 years old and announced that sanctions would be taken against those who do not respect it.
One of the monitoring mission's objectives is therefore, to follow up on the different allegations and cases of violations of the Deed of Commitment and to talk with YPG/YPJ about additional measures that might be taken to enforce its obligations and definitively put an end to the recruitment and use of children in hostilities.
---
Meeting with YPG/YPJ leaders
A few hours after our arrival in a city near Qamishili, we meet with Redur Xelil and Nasrin Abdallah, both spokespersons and commanders of the YPG and YPJ, respectively. They are responsible for implementing the Deed of Commitment in the ranks of the YPG/YPJ, which purportedly counts 35,000 combatants.
They start the discussion with interesting news from the front line. They have just learnt that negotiations with ISIS for the liberation of 34 Assyrian (a Christian ethnic group) detainees had been successful. We are surprised that negotiations with ISIS could even happen.
We now initiate discussions on a series of allegations — sometimes confirmed by the YPG/YPJ themselves — of child recruitment. As they did in the past, they recognize that the issue of child recruitment is a persistent one, and they reaffirm their willingness to uphold the obligations of the Deed.
They once again highlight the difficulties they are facing in terms of implementation. According to them, many children under 18 want to join YPG/YPJ voluntarily, mainly for the following reasons:
The lack of other options as many schools are closed
Domestic violence and forced marriage
Poverty in their families
Propaganda by YPG /YPJ and the need to defend their people against ISIS
The desire to avenge a relative or a friend who had been killed
"We need people to fight, as the conflict is intense, and we signed this agreement [the Deed of Commitment] being aware of this situation. There are still exceptions [of child recruitment]; we don't want to lie. We are trying to end these exceptions." Redur Xelil, YPG spokesperson and commander.
The two representatives raise another problem: YPG/YPJ recruitment processes are not centralized. The front line with ISIS is very long: from Derek, close to the border with Iraq, to Afrin, on the west side of the country.
Therefore, each battalion commander bears the responsibility for recruiting his/her unit's fighters. Despite the different command orders that have been sent to all units on prohibiting the use of child soldiers, it is difficult for the central command to make sure all its units respect the obligation.
The creation of a monitoring committee
As a measure to reinforce compliance with the Deed of Commitment, Redur Xelil and Nasrin Abdallah announce the creation of a monitoring committee with two main responsibilities:
Centralizing all complaints and allegations of child recruitment

made by families, the media and human rights organizations. Each complaint will lead to an investigation.

Regular inspections of military camps

, recruitment centres and the front line in order to check the ages of combatant and non-combatant members of the YPG/YPJ.
The monitoring committee has full authority to sanction officers who do not respect the Deed and to send children back to their families or to an education centre.
They invite us to collaborate and liaise closely with this committee and to accompany it on its inspection visits. We agree to this proposal and inform them that we will reinforce our local presence in the territory they control to ensure better coordination and monitoring.
After three hours of discussions, we decide that tomorrow we will visit one of the centres taking in children who had been discharged from active military service.
---
Visit to one of the centres taking in children discharged from active military service
Today, we are taken by YPG/YPJ to the centre hosting 16- and 17-year-old girls. The person responsible for the centre and Nasrin Abdullah, the YPJ representative accompany us on our visit.
According to the YPG/YPJ, once children under 18 are identified within their ranks, there are two different processes, depending on their age:
Those under 16 are demobilized and sent back to their families. 

If this is not possible, social services from the civilian administration take care of them in a centre, where they receive an education. We visited the centre during previous missions. We are trying to facilitate contact with specialized NGOs in order to provide psychological support to these children and ensure their reintegration into society.

Those children who are 16 and 17 are discharged from active military service and encouraged to return to their families.

However, if they want to, they can stay in special centres — one for boys, one for girls — managed by the YPG/YPJ. These centres are located far from the front lines. Children staying there are not authorized to participate in combat or perform any other military functions until they are 18 years old.
We arrive to the centre – located in a house far from the front lines – where 25 girls live and are educated.
According to Nasrin Abdullah, a proper educational curriculum is under development for the children in these centres. It will be based on the one previously used by the Syrian government. They are also trying to establish psychosocial support services for those who need it.
After detailed discussions, we are invited to meet and speak directly to the girls. Some of them have never fought and have been sent straight to the centre when they tried to join the armed forces.
In answer to the question, "Why did you want to join the armed forces?" most of them reply that they were shocked by the massacres in the cities of Kobane and Sinjar and wanted to defend their people. One of them has reportedly been forced to marry a man, and she run away from her family.
The most difficult point to understand from our perspective, is that most of the girls say that they would rather be fighting than be sheltered in the centre.
During the day, the girls study languages (Kurdish, Arabic and English), mathematics, theatre, music and do sport.
We finally leave the centre with the feeling that the girls are better protected from the conflict — despite their unwavering willingness to fight. They are getting an education, just like any children of their age, and are not directly faced with the atrocities of war.
Return to Erbil
After two intense days in Syria and a few more meetings with the authorities, we drive back to Erbil, in Iraq. We could see that the YPG/YPJ has made significant progress in its efforts to end child recruitment and use in hostilities.
However, much work still needs to be done, both to completely end the use of child soldiers and to reintegrate into civilian life all those who have been demobilized.
Since the signature of the Deed in 2014, we noticed that:
according to the YPG/YPJ, 

214 children under 16 have been demobilized

, and 

49 others between 16 and 17 were discharged from active military service

;

three centres have been opened to take in these children

 — should a return to their family be impossible — one for children under 16, run by the civilian administration, and two for 16- and 17-year-olds, run by the YPG/YPJ;

a sanctions mechanism has been put in place for officers

 

who do not respect the command order

: the YPG/YPJ announced that at least seven officers had been sanctioned for not respecting the Deed of Commitment (some had been expelled, others had been demoted);

a monitoring mechanism has been put in place for the inspection of military camps

, front lines and recruiting centres and to check on the age of combatants;

the level of awareness of the prohibition against using children in hostilities has risen significantly

 in the ranks of the YPG/YPJ, the media and among civilian populations (we have received more and more letters from concerned families), partly because of our trainings;
t

he YPG/YPJ has publicly answered the different allegations

 by the media

 

(local and international) or human rights organizations, thus showing that they are taking their commitment seriously.
We will keep supporting and urging the YPG/YPJ to better implement their obligations. We will also continue to train their fighters on the obligations of the Deed.
No children should be used in hostilities, whether in combat, spying, carrying out guard duties or supplying combatants, and no situations — even the most difficult ones — should justify exceptions.
Geneva Call continues to work with other armed non-State actors in Syria, particularly with the Free Syrian Army, in order to prevent the recruitment of children and enhance the protection of civilians in general.