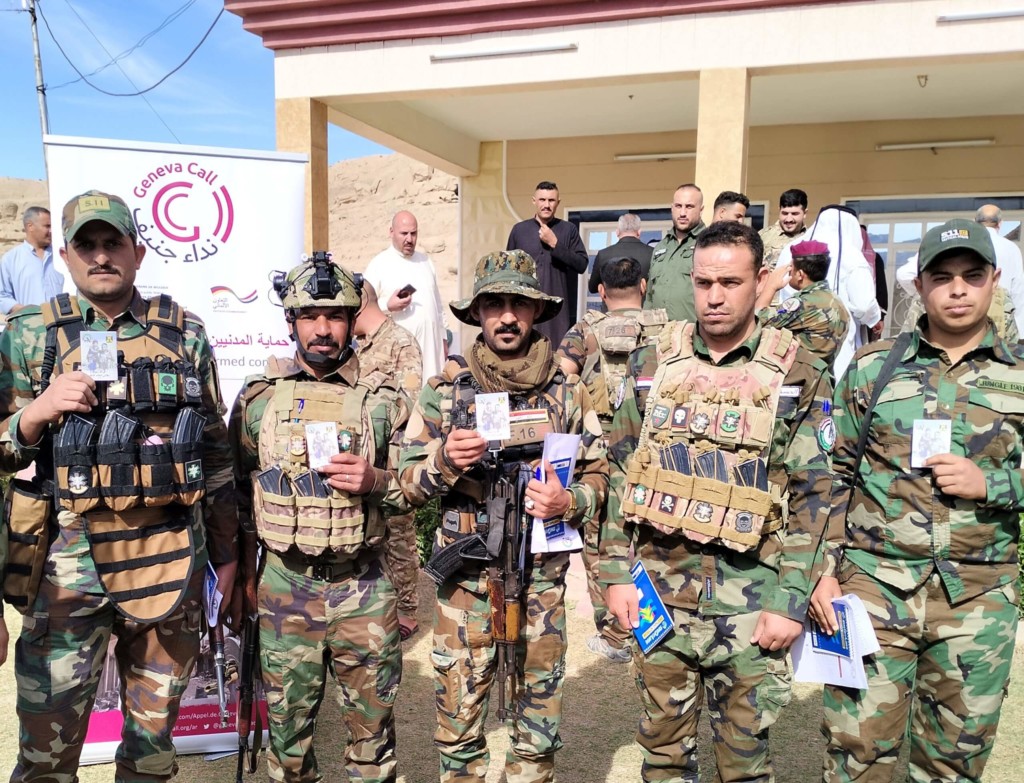 Popular Mobilization Commission (PMC) in Iraq adopts Code of Conduct for Humanitarian Norms
22 December 2022
The Code of Conduct, jointly developed by Geneva Call and PMC, aims to improve civilian protections for about two-thirds of Iraq's 41 million inhabitants.
Three years in the making, a pocket-sized leaflet produced by Geneva Call for the PMC packs a lot of power for its size because it responds to a great need and is built on a foundation of hard-won trust.
The Code of Conduct (CoC) is meant to increase compliance with international norms by the 160,000 fighters who operate in Iraq under the umbrella of PMC. That will lead to fewer violations and protection issues. The document reflects international norms and Islamic teachings that emphasize the importance of protecting civilians and their belongings during conflicts.
The CoC is an important tool to ensure that the PMF will abide by the key rules of International Humanitarian Law (IHL). Civilians exposed to hostilities are treated better if fighters adhere to the humanitarian norms that are grounded in IHL.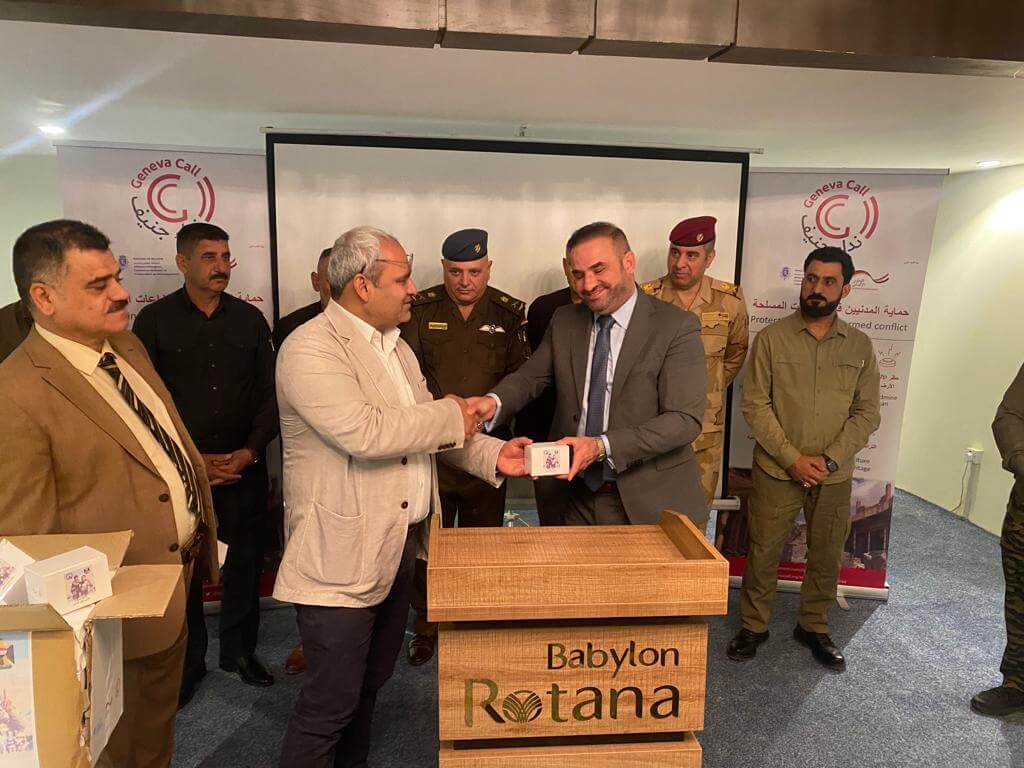 There are a lot of lives at stake: some 25-30 million people in Iraq live under the influence of the PMF, which operates in most regions of Iraq.
The PMF was formed via a religious decree (fatwa) released by Grand Ayatollah Al-Sistani in 2014 as a parallel security apparatus to fight the Islamic State of Iraq and the Levant (ISIL) and to protect the interests of Shia communities. Tens of thousands of people, particularly across Iraq's Shiite south, began answering the call to serve in the newly formed force. Almost two years after its formation, Iraq's Parliament approved a law in 2016 that confirmed the PMF as a legal and separate military corps, and legally recognized the PMC to oversee it.
In such complex arrangements – in this case, the PMF is a professional yet hybrid military organization that is part of Iraq's security system – the many complicated layers of command structures and the fighters that report to them raise the potential for IHL violations.
Building on its expertise with armed groups and de facto authorities, Geneva Call identified a critical gap it could fill as a neutral and independent humanitarian organization working to improve the protection of civilians in armed conflict.
Concerns about serious violations of IHL had surfaced on both sides of the fighting between the PMF and the brutal ISIL militants from 2014 to 2017, giving rise to the need for training in IHL. The PMF has since deployed more than 56 brigades across different Iraqi provinces, including the disputed territories between Baghdad and Erbil.
With so many factors in play, it was not easy to build the trust needed to persuade the PMF to engage in the process of improving civilian protections. But that is Geneva Call's specialty: building long-term trust in some of the world's most difficult places for humanitarian rules to prevail.
"It took us almost three years to get their confidence," Atif Hameed, Geneva Call's country director recalled. "We started talking about declarations, commitments, and then finally we agreed the Code of Conduct is the best framework because it's a very optimized force, and they have a chain of command. The Code of Conduct covers all aspects of Geneva Call's 15 rules of IHL."
After Geneva Call proposed the idea of a Code of Conduct printed in a leaflet, it organized workshops and trainings for the PMF's command structure. Geneva Call set about drafting the code into the leaflet specifically for the PMF. It has PMF's picture and logo on it, and it also includes language and religious references useful to the PMF.
Geneva Call's trainings for the PMF have imparted "great knowledge of human rights and International Humanitarian Law, as we learned a lot about protection of civilians during war and its aftermath and how to respect their properties and also how to protect the wounded and the sick people," said Diaa Al-Akadh, head of security forces for the PMF's Northern Command in Kirkuk.
Al-Said Dawood Al-Shai'e of PMF's Nineveh Operations Command also said the efforts are "highly appreciated from our side."
"We thank Geneva Call for organizing the training, which is considered the first of its kind that the Popular Mobilization Force in Diyala have been trained on," said Mushtaq al-Fayyad, head of the Popular Mobilization Authority, which obeys Iraqi Armed Forces. "We wish to receive more trainings for the Popular Mobilization factions. These trainings on Code of Conduct are critical for the PMF."
That means there is a lot more work to do to improve civilian protections, defuse tensions within communities and help as much as possible to ease the lives of millions of Iraqis who have been forced to abandon their homes after decades of conflict and violence. The U.N. refugee agency's latest figures show 1.2 million internally displaced people and 262,000 Syrian refugees live inside Iraq.
The leaflet lays out the CoC's 15 rules after a short introduction that explains the PMF has "legitimate justifications inspired by the narratives and principles of Islam – which considers the protection of those affected by hostilities one of the basic and well-established humanitarian principles."
Its widespread acceptance is a striking achievement that helps mainstream these humanitarian norms into PMF. "This Code of Conduct is very much appreciated by all of their fighters," Hameed said.
"They want us to give training to all of their fighters, and at Geneva Call we don't have enough capacity and resources to give training to all 160,000 fighters," he said. "We are targeting the officers and commanders, but in parallel we are working on a plan to launch a 'training of trainer' program within the Popular Mobilization Commission, so that their trainers can be the ones who can reach out more to the fighters."
Parliament member Ahmed Al-Asadi, a central leader in the PMF Commission, confirmed the demand for more training. "Geneva Call is a very respectful and neutral organization, and we are ready to have further deliberations on the Code of Conduct," he said.