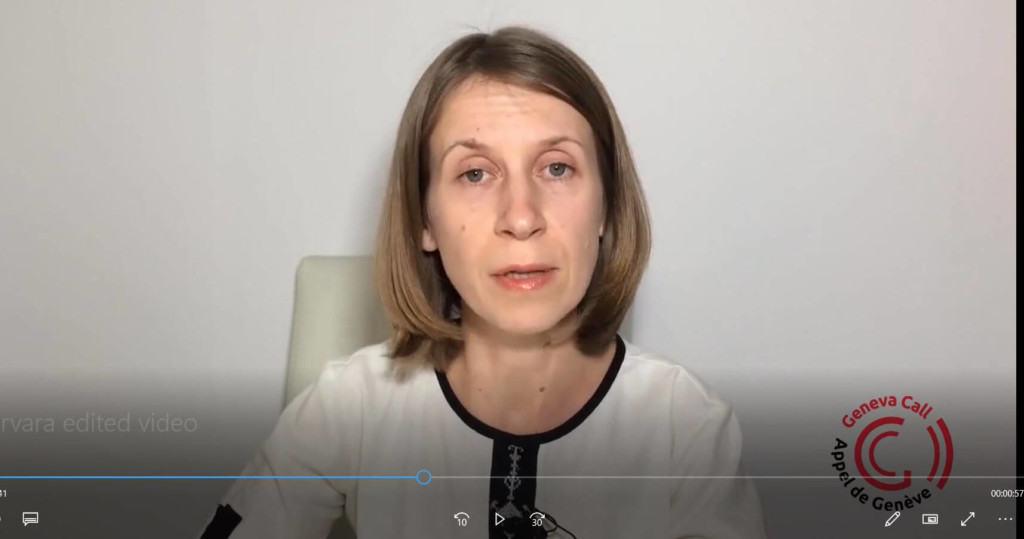 A message from the field, Episode 3: fighting the spread of COVID-19 along Ukrainian frontlines
11 May 2020
In the Donbas region of Eastern Ukraine, where people have borne the costs of armed conflict for the past six years, the COVID-19 outbreak and measures to contain its spread are threatening to be dire, amidst an already fragile health system and lack of access to essential services.
Geneva Call is taking action and launching an emergency response plan to help prevent the spread of the outbreak and protect healthcare system from attacks in this region, particularly vulnerable to the pandemic.
In this video, Varvara Pakhomenko, Country Director for Ukraine, summarizes this response and Geneva Call's activities in the region.
As part of the response plan, Geneva Call has created and printed flyers and posters on the protection of healthcare and on how to stop the spread of COVID-19, which are now being disseminated in Eastern Ukraine. Up to date, 12,000 copies of the flyers and 500 posters in Ukrainian have been shared with combatants along the frontlines.
Geneva Call has developed videos on the denial of access to healthcare and the misuse of protective emblems, and on endangering medical transports, in Russian and Ukrainian. In the first two weeks of the campaign almost 400,000 people viewed them on both sides of the frontline. A new website in Ukrainian and Russian was launched to support the diffusion of these videos and the campaign in general.
In addition, Geneva Call is participating to global discourses with several publications highlighting the critical and timely need to protect doctors. This Oped in Ukrainian discusses the danger medical workers face in Donbas and what International Humanitarian Law says about their protection, and this interview of four doctors, both civilian and military, on the frontline in Ukraine presents an insight into their experience on the frontline and the COVID-19 crisis.
___
Geneva Call's response operates across the triple nexus to address the immediate health crisis, to reduce the likely negative long-term economic and development impacts of the crisis and ultimately to reduce violence experienced by civilians, promoting peace.