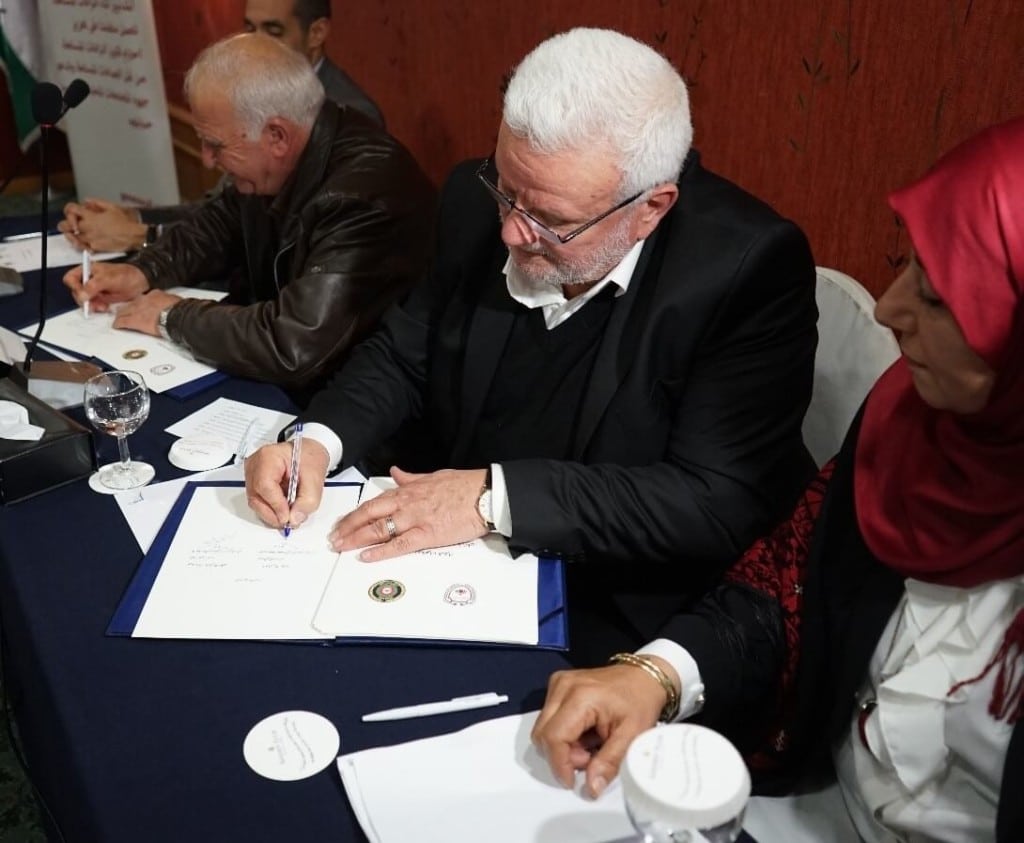 The Palestinian National Security Forces adopt a Code of Conduct and Code of Ethics, committing to improve respect of international humanitarian norms in the Palestinian camps in Lebanon
26 mars 2019
Following the long-term humanitarian engagement to sensitize the Palestinian National Security Forces in the Palestinian camps in Lebanon around international humanitarian norms and to enhance respect of these norms, a Code of Conduct and a Code of Ethics were officially adopted by the forces at a ceremony held on Wednesday 20 March in Beirut, Lebanon.
Numerous high-level representatives of embassies, the Lebanese Palestinian Dialogue Committee, as well as Lebanese authorities and security forces attended the event. Geneva Call's Director of Operations, Hichem Khadhraoui, delivered the opening speech addressing the ongoing cooperation between the Palestine Liberation Organization, the Palestinian National Security Forces in Lebanon and Geneva Call, over several years. He highlighted the work of the Legal Support Unit to the Palestinian National Security Forces in Lebanon, which has been instrumental in the development of the Codes and their signature. H.E. Mr. Ashraf Dabbour, Ambassador of the State of Palestine to Lebanon, stressed the importance of security and stability in the Palestinian camps in Lebanon and how the implementation of these Codes would help preserve human dignity and respect. Mr. Fathi Abu Al-Ardat, Secretary of the Palestine Liberation Organization factions in Lebanon, pointed out the positive impact that these Codes will have on the lives of civilians in the camps and called on all factions to ensure the Codes are fully implemented.
Senior representatives of foreign embassies – Ms Tarja Fernández, Ambassador of Finland to Lebanon, and Ms. Elisabeth Gilgen, Deputy Head of Mission of the Embassy of Switzerland in Lebanon – among others, attended the ceremony.  In her speech, Ms. Fernández praised the work of Geneva Call, underlining the significant impact the commitment to these Codes can have on the human rights and safety of civilians in the camps. Ms. Gilgen reiterated Switzerland's unwavering support for Geneva Call's work in Lebanon, where the signing of these Codes is an example of a real initiative to protect and promote international norms, offering a glimpse of hope in a complex setting. Finally, Ms. Amal Shehabi who heads the Legal Support Unit, spoke of the lengthy joint efforts carried out by the Unit and Geneva Call to develop these important Codes.
Geneva Call will continue its work in supporting the implementation of these Codes in close cooperation with the Legal Support Unit and the leadership of the Forces in Lebanon.