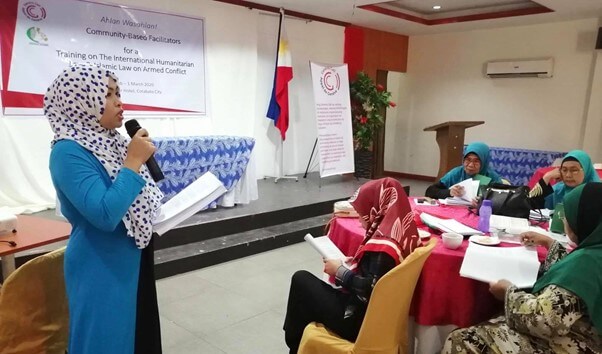 "If not us, who?" – Meet Nor Ayn, Geneva Call's Project Coordinator in the Philippines
2 novembre 2021
For more than five decades, the Philippines have been torn by armed conflict between the regular armed forces of the country and multiple actors, including the New People's Army, the Moro National Liberation Front, the Moro Islamic Liberation Front, the Bangsamoro Islamic Freedom Fighters, the Maute Group and the Abu Sayyaf Group.
Nor Ayn Makakena joined Geneva Call in the Philippines in 2019 with the ambition to alleviate civilian suffering resulting from armed conflict. In her years of service in the humanitarian and development fields, she has come to realize that her mission is not just to fulfill her duties as personnel of an organization, but also to serve as an instrument to assist people and groups in need.
"For me, it is more than just a job. It is about you, it is about me, it is about my community, it is about the protection of my community".
Her experience at Geneva Call has increased her awareness of the necessity of safeguarding communities. She believes that her task is not only to impart knowledge and explain the "Rules of War," but more importantly to increase the protection and safety of the population, and above all, to uphold the value of life.